You know how hard it is to get someone to do what you want them to do?
It's pretty hard. And you know what? We make it harder. We get lost in the details. We fuss about incentives and penalties and policies. We overcomplicate problems.
So if complexity is our problem, then it stands to reason that simplicity is the solution. We need to figure out exactly what we're trying to do and how best to do it. Well, that sounds fine. But how do we actually make simplicity solve our problems?
To find out, I went through nearly two decades of case files, looked at thousands of business interactions. Where had I messed up? Where had things gone smoothly?
And a pattern emerged, where complexity caused problems and simplicity led to success.
That same pattern appears in hundreds of business books, in all kinds of business interactions. This pattern teaches us the best way to get someone to agree to do something. It comes to down to three simple points. And these three points make what I call "The Result Triangle."
The Result Triangle works in every business context: negotiations, sales, customer service, management, litigation, pricing. Whatever field you're in, you can use the Result Triangle to simplify your problem and get someone to do what you want them to do.
The three simple points are:
clarify the goal
show you care, and
address the fear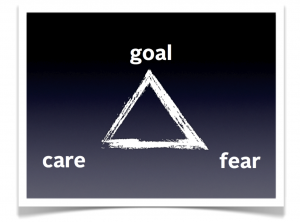 These three points help you figure out what you want … and how to get it. Let me give you 3 quick examples to show how they work in real life.
Clarifying the goal
I usually fly Southwest Airlines. And many of you know that on Southwest, you have to check in early so that you don't get stuck with a middle seat. Southwest doesn't do seat assignments. Instead, you check in and get assigned a number. Get a lower number, get a better seat.
Why does Southwest do this? Because their goal is to keep their planes in the air as much as possible. Open seating, flying only one type of jet, and even "bags fly free" all lead to more time in the air. And more airtime means more profit.
Planes make money in the air, not on the ground. Their planes spend 30 percent more time in the air than their competitors', and they're the only airline making a profit. By clarifying their goal — "planes in the air" — Southwest gets their people to focus on doing what's most important.
We tend to take our goals for granted without giving them a lot of thought: To close the deal. To win the case. To make the sale. But a goal needs to be more precise. Clarifying your goal — boiling it down to its essence — is the first step to achieving it.
Show you care
The second point is "show you care." Let me give you an example:
My dad had this winter coat that he loved and he wore it until it finally fell apart. Turns out my brother was planning a trip up to L.L. Bean in Maine, so my dad asked him if he could pick him up a new coat while he was there.
So my brother brings the coat to try to exchange it and of course he has no receipt because my dad bought it so many years ago. And the folks at L.L. Bean can't find the same coat. So instead of sending him away, they give him a different one, brand new, without any hassle. Because L.L. Bean cares so much about customer satisfaction.
So my brother gets back and gives the new coat to my dad. And my dad says, "Thanks. But I didn't get it at L.L. Bean!"
And you know what? L.L. Bean must have known that, but they gave him a new coat anyway. Because they were focused on showing how much they care.
Showing that you care makes people want to do what you want them to do. Because of the coat, my family keeps coming back, and we've told this story to hundreds of people. By showing they care, L.L. Bean gets people to keep shopping there and tell others how great they are.
Address the fear
The third point is "address the fear." I was at a Denver steakhouse recently. Great food, fantastic service. This place focuses on a great experience. When it came time to order, we picked out our steaks and we were trying to settle on a side dish to go with the steaks. The waiter recommended this fancy Brussels sprouts dish.
Now, I like Brussels sprouts as much as the next guy, I really do. But this dish sounded a little too daring for me. The waiter said, "Why don't you just give them a try? If you don't like them, I'll whisk them away and replace them with anything you want, no questions asked." So we tried them, and you know what?
They tasted like feet.
But even so, we didn't ask him to replace them. We just moved them around on our plates. Because we didn't want to ruin the experience. The waiter had addressed our fears about not liking the Brussels sprouts, and that made us happy, even though our fears actually came true.
People's fears are what keeps them from doing what you want. By addressing those fears, you help people get past them. Even if you can't prevent those fears from coming true. Simply addressing the fear helps make them want to do what you want them to do.
And that's the Result Triangle:
Clarify the goal
Show you care
Address the fear
You can start using it today. Anytime you need to get someone to agree to do something, whip out your trusty Result Triangle. You'll be amazed at how this focuses your efforts.
When you do these three things, you simplify the problem you need to solve and you improve your chances of success. People will want to do what you want them to do.
---
Download a handy PDF of the Result Triangle Worksheet that you can use right now to help solve whatever problem you're facing.