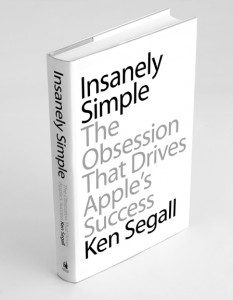 Author Ken Segall, who writes the blog "Observatory," has a new book coming out in April about how Apple has used the principles of simplicity to achieve its remarkable success. Segall was Steve Jobs's agency creative director for 12 years. Here's a quote from the book's site:
To Steve Jobs, Simplicity was a religion. He built a company based on its principles, in which the complexities of traditional business were simply not tolerated. Simplicity was also his most powerful weapon—a means of humbling category leaders once thought to be invincible.
The book looks promising; I've already preordered my copy. You can order yours from Amazon here (affiliate link).